Spring 2022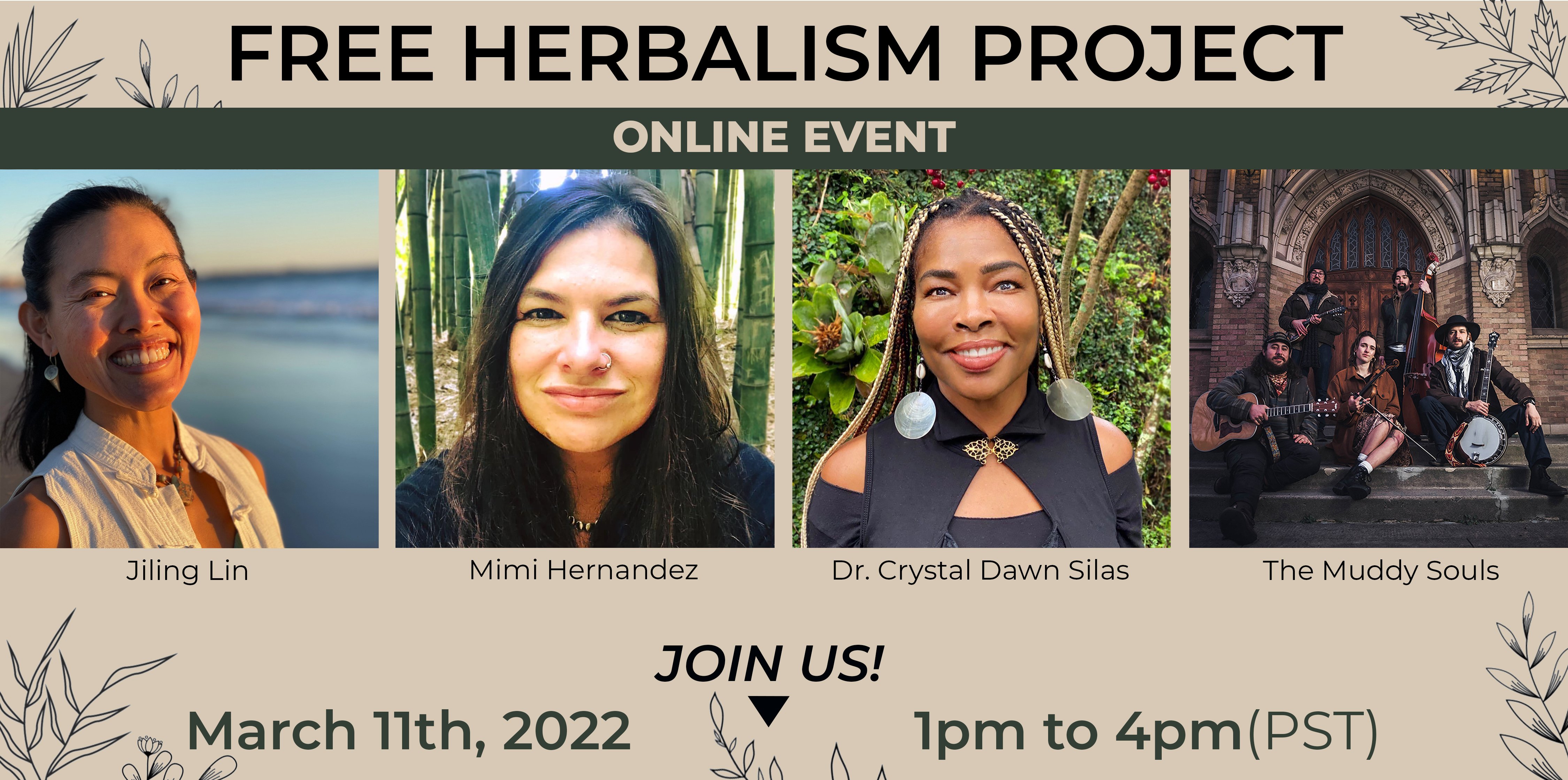 EVENT DETAILS
Date: Friday, March 11
Time: 1:00 PM – 4:00 PM (PST)
Location: The Comfort of Your Home or Office (via Zoom)
Herb lovers have been joining us for the Free Herbalism Project since 2013. Connection and community are more important than ever, so we've taken our flagship event online! We're bringing the botanical expertise and world-class entertainment to you via Zoom—ALL FREE!
Schedule
1:00 – Wild Weedy Wonders
Introduction with Jiling Lin
1:15 – The Muddy Souls
Musical Guest
1:30 – A Fragrant Trio: Lemongrass, Lemon Verbena and Lemon Balm
Mimi Hernandez
2:30 – The Muddy Souls
Musical Guests
2:45 – What Is the Microbiome and How to Nourish It
Dr. Crystal Dawn Silas
4:00 – Closing with Jiling Lin
REGISTER BELOW
**A recording will be emailed to each person who signs up. So, if life happens and you're not able to log in day-of, you will still have access to the event recording. This email will also contain a promo code, so keep a lookout for that! Please allow up to 3 weeks after the event to receive the email.
Event Registration is now closed. Sign up for our newsletter to learn about future events, sales, recipes, and more!
Wild Weedy Wonders: 3 Easy Spring Recipes for your Wild Kitchen / Emcee
Welcome spring with four common plant families, and three easy recipes for your wild kitchen. Explore basic plant family identification skills to confidently gather, chop, and savor your local wild weeds, connect with your backyard, enjoy food as medicine, and nourish resilience!
Jiling Lin, L.Ac. is an Earth-centered acupuncturist, herbalist, and yoga teacher in Ventura, CA. She cultivates thriving health for fellow healthcare practitioners, artists, and athletes through holistically accessible clinical and educational support, specializing in managing pain, chronic illness, and psycho-spiritual wellness. Jiling connects wilderness, creativity, and Spirit through both internal and external environmental stewardship. She facilitates integrative embodied-wellness events nationally and internationally, including wilderness-immersion retreats, herbal workshops, community acupuncture, and emergency medical support. Between patients and students, Jiling is hiking, backpacking, surfing, climbing, and botanizing around Ventura, and beyond.
Musical Guest
Born out of the belly of the acoustic music scene in Eugene, Oregon, The Muddy Souls were formed in the Fall of 2018. They combine bluegrass/traditional music with original songwriting and lively instrumentals for a memorable show that is sure to get your feet dancing and your face grinning.
A Fragrant Trio: Lemongrass, Lemon Verbena and Lemon Balm
Explore the traditional trio of Lemongrass (Limoncillo), Lemon Verbena (Cedron), and Lemon Balm (Torinjil) through Mimi's story rooted in Latin American Folk Herbalism. Draw inspiration for home remedies of the deep synergistic infusion of the lemony trio for physical, mental, and spiritual health.
Mimi Prunella Hernandez, MS, RH(AHG), believes strongly that keeping plant wisdom alive is essential and has dedicated her life's work to serving as an advocate for both traditional and professional herbal pathways while building cultural bridges of understanding. Inspired by her Mexican/Colombian background & the Abuelas in her life, her roots spring from Latinx folk herbal traditions. As a Registered Herbalist, Mimi has mentored many students of clinical and community herbalism over the years. She has also worked in nonprofit leadership as the Executive Director of the American Herbalists Guild and in academia where she taught undergraduate Ethnobotany at Frostburg State University. Mimi is realizing her dream as a homesteader near Asheville, NC where she stewards the modest PonderLand native plant sanctuary.
What Is the Microbiome and How to Nourish It
Every creature on this planet has evolved within our Earth's microbial soup, and humankind is no exception. Microbes have always lived in us and on us. We are superorganisms of microbial and mammalian cells that have co-evolved over time. Our biology has evolved to rely on microbes to influence those metabolic functions that have not been encoded within the human genome. During this hour we will discuss those lifestyle choices, foods and herbs that nourish a wholesome microbiome that positively signals our genetic program towards repair and restore.
Dr. Crystal Dawn Silas is an intuitive, information-rich, dynamic, inspirational healer/speaker/leader. She is a Functional Medicine, Family Medicine and Emergency Department Physician with over 20 years of infusing botanical medicines and other integrative approaches to create her unique healing modalities. Crystal Dawn inspires those everyday lifestyle choices that enhance the body/mind/spirit's innate ability to renew itself towards a luminous well being and wholesomeness. Dr Crystal Dawn is a world nomad, whose compassionate yet provocative paradigms has been shifting lives around the planet for decades.