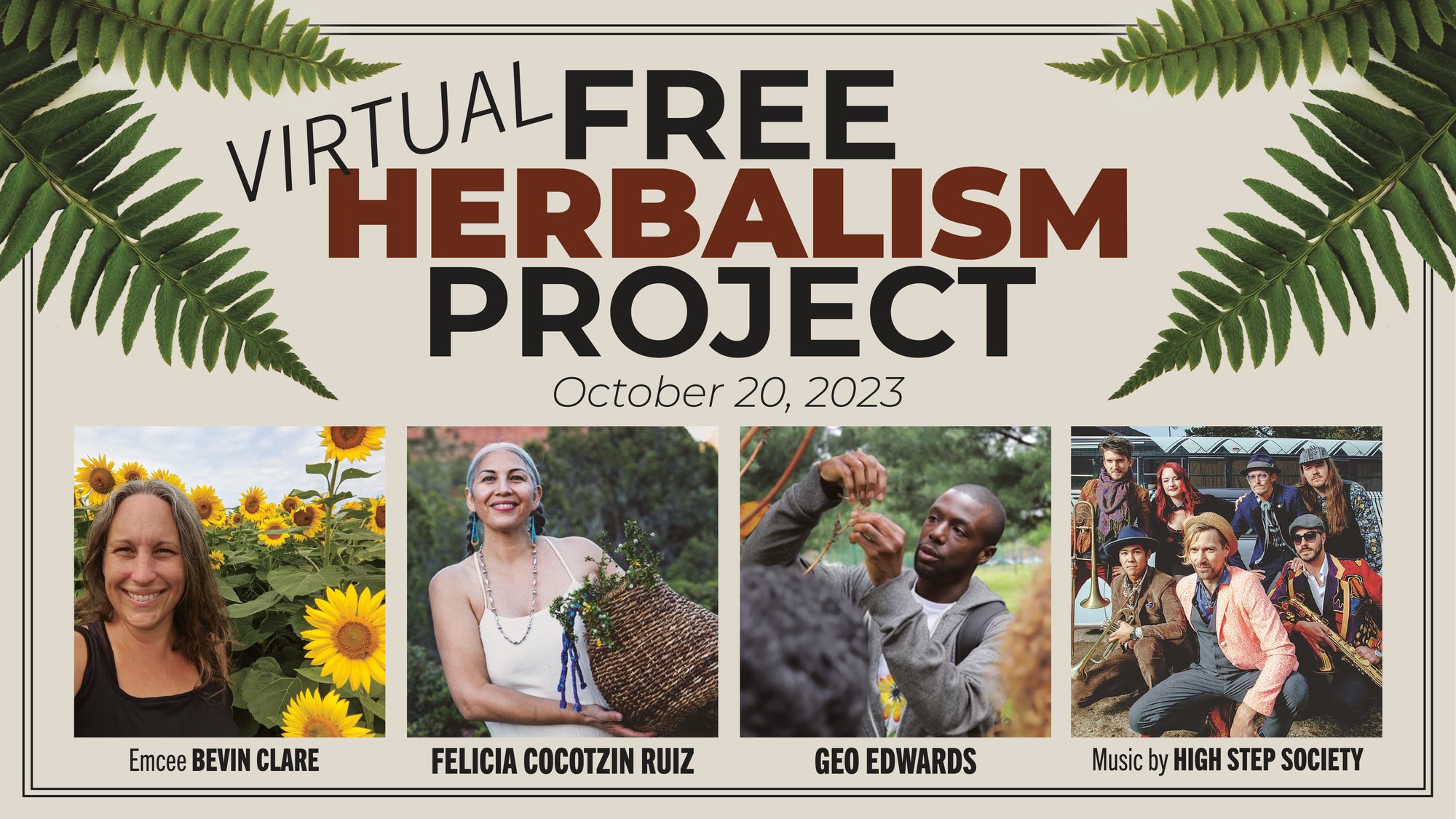 Delivering botanical expertise and world-class entertainment to you via Zoom—FOR FREE!


Event Details
Date: Friday, October 20, 2023
Time: 1:00 PM – 4:00 PM (PST)
Location: The Comfort of Your Home or Office
Tune in as esteemed speakers Felicia Cocotzin Ruiz and Geo Edwards share their wisdom and ancestral journey into herbalism.

Featuring music by High Step Society and special guest emcee, Bevin Clare
SCHEDULE
1:00 Fun & Funky Ways to Use Herbal Powders
1:25 Out of Many, One Comfrey
2:25 Musical Performance
2:40 Indigenous Herbalism: Empowerment and Resistance
3:40 Closing Remarks
3:45 Closing Tunes

* A recording will be sent to those who have signed up. Please allow up to 3 weeks to receive the recording.
---

Indigenous Herbalism: Empowerment and Resistance
For countless generations, herbalism has been used by Native people of the Americas for rituals and wellness. Join author and curandera, Felicia Cocotzin Ruiz, in a virtual talking circle sharing stories of self determination and resistance using traditional remedies, followed by a short demonstration using one of her favorite flowers, cempasúchil (Tagetes erecta).
Felicia Cocotzin Ruiz is a native Arizonan, living in one of the most edible and medicinal landscapes in the world. Following her family's lineage, Felicia began training as a curandera (medicine woman) in her early twenties, working in cafes and coffee shops to make ends meet. Eventually Felicia would find success as an award-winning restaurateur, and later join over twenty-five years of Indigenous healing practices with food as medicine.
Recognized for her work with Indigenous foodways and decolonizing wellness, Felicia is passionate about sharing food + lifestyle as medicine across many platforms. Her book Earth Medicines: Ancestral Wisdom, Healing Recipes, and Wellness Rituals from a Curandera, has received praise from industry leaders including Padma Lakshmi and Darin Olien. Felicia's work has been featured in Spirituality & Health, Forbes, Bon Appétit, and several other media outlets including The Original Americans episode on Padma Lakshmi's Taste The Nation (Hulu). Felicia presents frequently around the country on traditional healing practices, culinary medicine, holistic wellness, and Native American food sovereignty for nonprofits, universities, and museums–including the Smithsonian National Museum of the American Indian.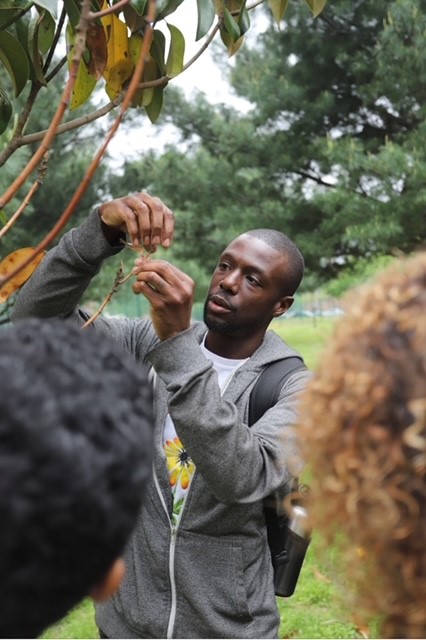 In this talk, herbalist
Geo
Edwards
will share the story of his path to simplifying his herb practice over the years and how connecting to one plant passed down through family oral history revolutionized his entire process for working with and making art about all plants.
Geo Edwards (he/him) is an educator and healing artist whose practice currently encompasses herbalism and art therapy. Born and raised in Milwaukee WI, he is owner of Grain & Pestle, an apothecary and art studio based in Detroit MI. Geo's herb practice has multiple influences that include Chinese Medicine, Black Southern farming and herbal traditions, and the Maroon herbal traditions of Jamaica. Geo is creator of Nu Healing Arts Garden, a collection of perennial plants that has been instrumental as study and teaching aids in many of his classes and workshops. Geo is a previous clinical supervisor in the Chinese Herbs dispensary at MUIH and is currently clinic faculty in the acupuncture program at MUIH and guest lecturer in multiple community herb programs and schools across the nation. Geo has facilitated workshops and plant walks on numerous topics ranging from ecology, the elements, mental health, and expressive therapies. Although he loves plants dearly, he still finds the most fulfillment with hands muddied with clay.


Fun and Funky Ways to Use Herbal Powders



Herb powders are some of the most accessible, affordable, and easy ways to make and take herbal medicine. And they can be a ton of fun! Check out 3 fabulous ways to take your herbal powders in a virtual tasting experience and be ready to make your own.

Bevin Clare is an herbalist, nutritionist, homeschooling parent, a professor at the Maryland University of Integrative Health and the program director of the MS in Clinical Herbal Medicine program. She holds a MSc in Infectious Disease and has studied herbal medicine around the world. Bevin is the author of Spice Apothecary and a former President of the American Herbalists Guild. You can find her musings at www.bevinclare.com and on Facebook and Instagram @spice.herb.wander.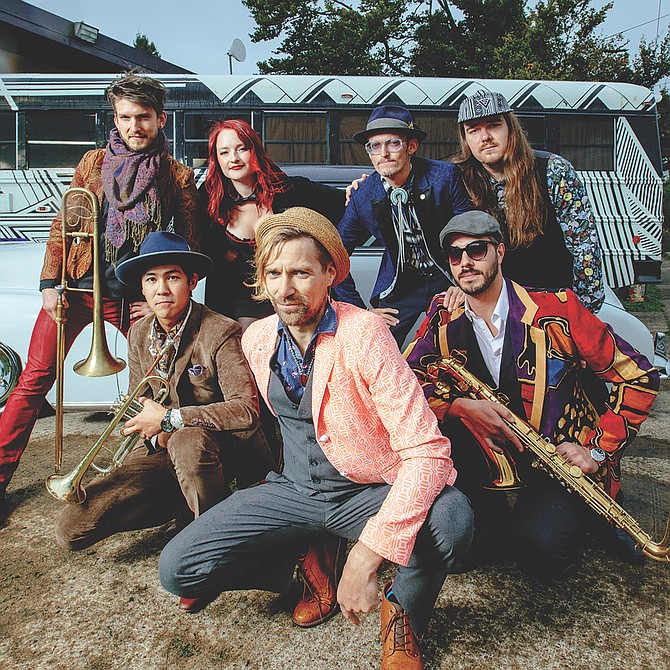 High Step Society is a dance party from another dimension; a high-flying, beat-dropping, big band rocket ship with an ear to the past, and both feet on the gas. This dynamic band is bringing jazz back to the party, where it belongs.
The 7-piece band's mission is to bring people together, to create a celebratory space that transcends the troubles of this world. Capturing the spirit of the Jazz Age and launching a century forward, this band breaks down the divisions between us and replaces them with the irresistible urge to dance together.
---

What is the Free Herbalism Project?
The Free Herbalism Project is an interactive community event with botanically inspired lectures from experts in the field, live music, community, and plenty of organic herbal tea—all free of charge! Our goal is to create a remarkable experience for those who wish to delve further into the world of herbalism, wild foods, and natural living. It is one of the ways in which Mountain Rose Herbs hopes to give back to herbalists and our local community.
Bring your friends, sip organic tea, and learn about herbs! You can also support the event's featured nonprofit organization through the purchase of organic ingredients, herbal books, and other goodies between lectures.
If you're unable to make it to the event, be sure to tune in to Herbal Radio, presented by Mountain Rose Herbs. This community resource is a collection of curated lectures from some of our generation's most esteemed herbalists, including Rosemary Gladstar, Tieraona Low Dog, Guido Masé, and jim mcdonald.
Our YouTube channel is also features a wealth of herbal education and inspiration. When we host visiting teachers for the Free Herbalism Project, we sit down with the herbalists and record informative videos for your viewing pleasure.
EDUCATIONAL RESOURCES
---
---
---
Interested in previous Free Herbalism project Events?