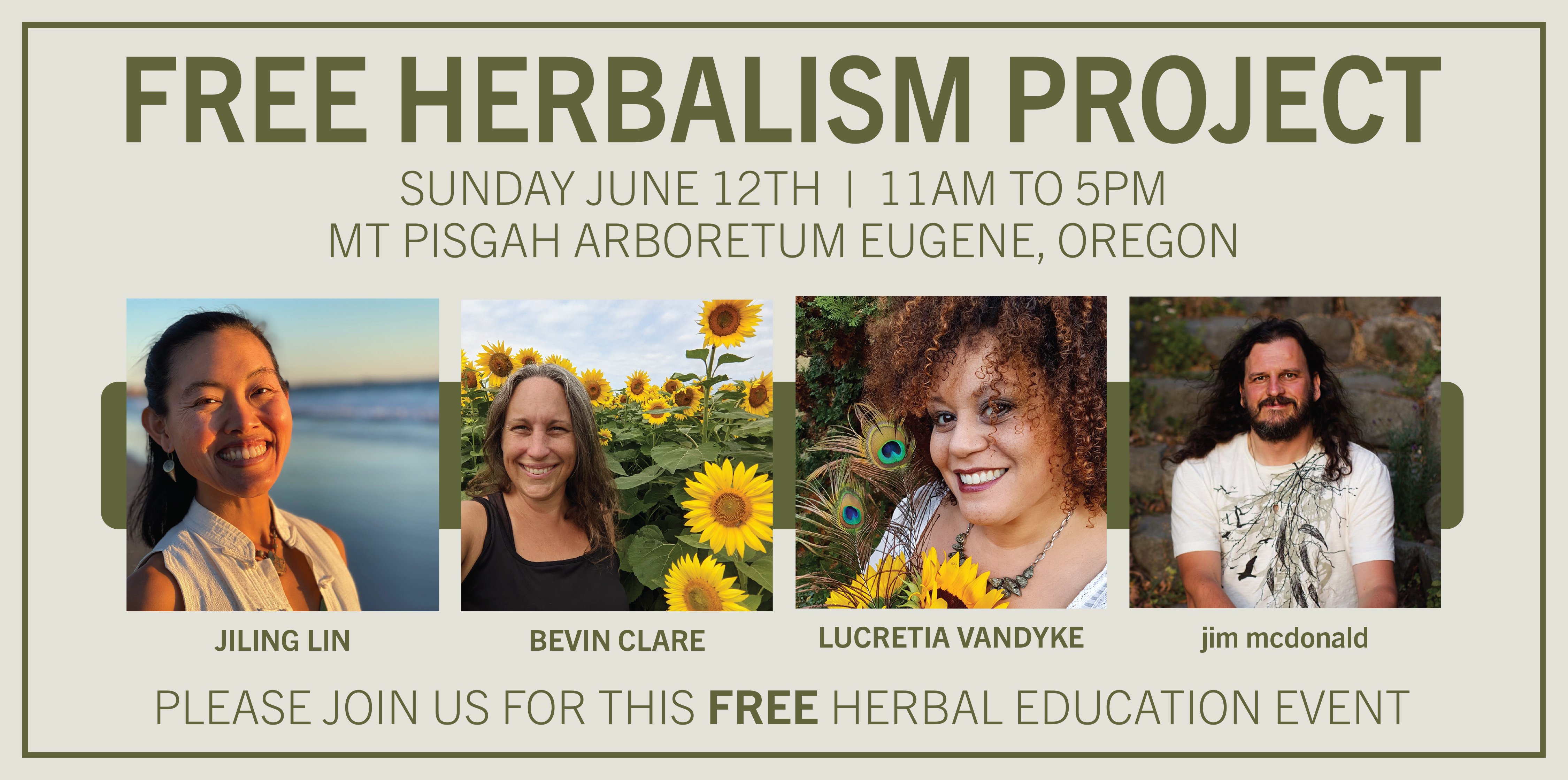 SAVE THE DATE!
Summer Free Herbalism Project
Sunday, June 12, 2022
We are elated to host our next in-person Free Herbalist Project (FHP) this summer at the beautiful Mount Pisgah Arboretum in Eugene, OR. It's been two years since our last in-person FHP and we couldn't be more excited to be in community and share in herbal education together. We are so excited in fact, that we are happy to announce three speakers at this Summer's FHP!
Speakers include esteemed herbalists jim mcdonald, Bevin Clare, Lucretia Vandyke, and emcee Jiling Lin. Herb walks will be led by Logan Keister. We will also have our good friends from Morning Myst bringing their tabletop stills and giving demonstrations on making hydrosols throughout the day. Live music will be sure to get you dancing! Food and tea will be available at the event as well as local botanically inspired vendors.
FHP is a free event and all merchandise sales proceeds from this Summer's FHP will be donated to local non-profit, the School Garden Project. We hope you'll join us for some herbally good times this June! Can't wait to see you there!
Schedule of Events
9:45 - 10:45
Yoga with Darlene Armantrout
11:00 – 11:15
Introduction with Jiling Lin
11:15 – 12:15
Spice Up Your Life with Bevin Clare
Learn how to use spices to support health and wellness.
12:30 – 1:15
Music Break with Sugar Pine
Herb Walk with Logan Keister*
1:15 – 2:15
Botanical-Based Beauty with Lucretia VanDyke
Explore the many ways that plants can be used in your beauty care routine.
2:30 - 3:15
Music Break with Sugar Pine
Herb Walk with Logan Keister*
3:15 - 4:15
Common Plantain as a Powerful Ally with jim mcdonald
Discover the many benefits and wonders of wild and accessible plantain.

4:30 - 4:45
Closing Remarks with Jiling Lin
*Herb walks can only accommodate small groups and
will be offered first-come, first-serve.

Please note that event schedule is subject to change.
What is the Free Herbalism Project?
The Free Herbalism Project is an interactive community event with botanically inspired lectures from experts in the field, live music, community, and plenty of organic herbal tea—all free of charge! Our goal is to create a remarkable experience for those who wish to delve further into the world of herbalism, wild foods, and natural living. It is one of the ways in which Mountain Rose Herbs hopes to give back to herbalists and our local community.
Bring your friends, sip organic tea, and learn about herbs! You can also support the event's featured nonprofit organization through the purchase of organic ingredients, herbal books, and other goodies between lectures.
If you're unable to make it to the event, be sure to tune in to Herbal Radio, presented by Mountain Rose Herbs. This community resource is a collection of curated lectures from some of our generation's most esteemed herbalists, including Rosemary Gladstar, Tieraona Low Dog, Guido Masé, and jim mcdonald.
Our YouTube channel is also features a wealth of herbal education and inspiration. When we host visiting teachers for the Free Herbalism Project, we sit down with the herbalists and record informative videos for your viewing pleasure.
EDUCATIONAL RESOURCES
---
---
---
---
RECEIVE EVENT UPDATES AND FUTURE EMAILS FROM MOUNTAIN ROSE HERBS